Russell Chapman
Biography
Mainly I'm a photographer but sometimes I also write. My time in Syria inspired me to write all about I learnt there.

I'm well travelled with a lot of experience of this crazy world. The one thing I have seen in my travels is that no matter where you go, people are people, no matter the colour of skin, religion or culture. They all want essentially the same thing, security, home, family and happiness.
Where to find Russell Chapman online
Books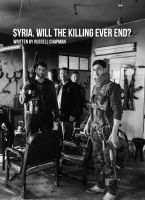 Syria. Will the killing ever end?
i went to syria in april 2013 to get a better understanding of what is happening in this revolution and find out why this conflict is going on for so long. i also visited refugee camps in lebanon and jordan.