Samuel Japhets
Biography
Sam Japhets is a dual citizen of Ghana and Nigeria by birth, but permanently resides in Spring, Texas. Before settling in Texas in 2005, he had been a career Pastor under the auspices of the Assemblies of God Nigeria and Ghana until his resignation from the Pentecostal theology and ministries in 1997. He subsequently worked for various non denominational churches in Abia State, & Abuja, Nigeria; Accra & Kumasi Ghana; Abidjan Cote D'Ivoire; Lome, Togo; Cotonou, Benin Republic; Queens, New York; and The Woodlands Texas. He is a frequent international guest speaker at Christian events in the U.S. and many African nations. He is a versatile motivational speaker, especially to the international college and university student bodies.
Sam Japhets is a published song writer with four released Christian music albums and his current multi-genre ten songs album titled "Divine Star" is widely accessible on iTunes, Amazon, Napster, Rhapsody and other major internet music outlets. He is a member of the American Society of Composers, Authors and Producers (ASCAP) and a student member of the American Bar Association (ABA).
Sam graduated Summa cum Laude in Theology from Assemblies of God Divinity College, Nigeria. He also holds a B.S. in Legal Studies (Summa cum Laude) from Kaplan University, Iowa, U.S.A. He began his quest to practice law at Shepard Broad Law Center, Fort Lauderdale, Florida, and is currently a candidate for the Doctorate of Jurisprudence (JD, Law) degree at Concord Law School, California.
Where to find Samuel Japhets online
Books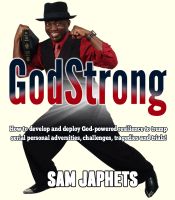 Godstrong - how to develop and deploy God-powered resilience to trump serial personal adversities, challenges, tragedies ad trials
An inspirational, motivational narrative of how a secret personal relationship with God enabled Sam to overcome serial adversities, challenges, tragedies and personal trials. Sam an inter-ethnic child grew up motherless in a hostile West African community but walked the hard and difficult road to a triumphant life. He now shares the secret of self reliance and personal relationship with God.