Willie F. Redmond
Biography
W. F. Redmond was born in the backwoods of Arkansas, the eldest of eight children, whose parents' lives were anchored to the cotton fields. But it was on the streets and playgrounds of Compton, California, that Redmond came of age. His daughter, six grand-children and four great-grands inspire, challenge and keep him young at heart. His work is also dedicated to his mother Rosie Lee, and his sisters, Amy, Jackie and Sharon, all of whose lives were cut far too short. He spends his days working at and and striving to improve his craft. He is author of the critically acclaimed two novel set, Compton Connection Books 1 and 2; the mid-west urban thriller, All is Fair in Hate; and the soon to be released, Arkansas Has Rainy Nights Too. He tells us that, "I have only just begun. The best is yet to come!"
Where to find Willie F. Redmond online
Where to buy in print
Books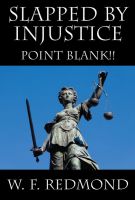 Slapped by Injustice
Betrayed by his childhood sweetheart and his best friend, Duane Freeman is arrested for attempted murder and ushered into the largest human warehousing system in the United States — the California Department of Corrections and Rehabilitation. Once inside, Duane discovers his true self. After serving seven years of his ten-year sentence, he returns to the streets a focused man with a plan.