Sandy Carlson
Biography
Author. Teacher. Wife & Mom & Friend.

I've been charged by a wild boar in Arkansas, fled wildfires along side of deer in Utah, spent hours in a Nebraska MacDonald's basement while tornados raged havoc overhead, attended seven Sturgis Rallies, nearly swept off a pier by a storm wave in Ontario, and got poo-ed on by a macaw resting on my shoulder in Honduras.
Where to find Sandy Carlson online
Books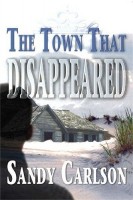 The Town That Disappeared
Driven from his neighborhood during the Chicago fire of 1871, Adrian moves to the Michigan wilderness. The town is called Singapore – as if a name could make a tiny spit of a town into a great seaport. Just as Adrian starts to feel that Singapore is his home, he discovers the moving sand dunes along the Lake Michigan shore are slowly burying his town. How can he fight both man and nature?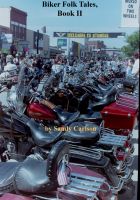 Biker Folk Tales, Book II
This second istallation of Biker Folk Tales retells four more folk tales with a biker twist -- The Vender Who Cried One-Percenter, Little Red and the Big Bad Biker, Who Wants a Road Trip, and Motorella.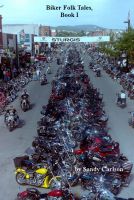 Biker Folk Tales, Book I
Here are three well-known folk tales with a biker twist. In The Three Big Fat Hogs, three brothers search for home. In Blondie Meets the Bear Dude Family, a lost jogger encounters her worst fear. In Rally Coin Soup, three bikers draw on the curiosity of townsfolk to provide a feast.