Sarisha Kurup
Biography
Sarisha Kurup is a teenage girl from California who has always dreamed of living in New York. When it comes to writing, she has fingers of fire. She has always had a fascination with people and the way they think, leading her to write "All of Us" from so many different perspectives. When she isn't writing, she enjoys debating, oil painting, singing, and drama, all of which she does often. "All of Us" is her first novel, and hopefully one of many more.
Books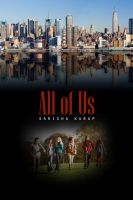 All of Us
By
Sarisha Kurup
Price: Free! Words: 54,080. Language: English. Published: October 27, 2012. Category: Fiction
Enter Manhattan, and follow the lives—some more glamorous than others—of ten fast friends, each with their own story. Watch each of them grow and change, and yet still hold on to each other as they navigate through life's treacherous waters. "All of Us" will take you through the lives of these ten people who are so different, but connected in one fundamental way—they're friends for a lifetime.
Sarisha Kurup's tag cloud