Swami Saurabhnath
Biography
I live in Phaltan, India. I am an accountant by profession and spiritual writing is my part time work. By the grace of God and my Master I have able to experience the Pure Consciousness. I am doing this daring work of writing on difficult subjects of spirituality because of such experience and help from God.
Smashwords Interview
Books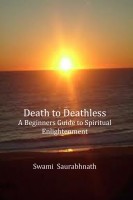 Death to Deathless
This book is about spiritual enlightenment and can be helpful to most of the people who want to reach to any conclusion through logic.
Swami Saurabhnath's tag cloud