Max Patrick Schlienger
Biography
Since he first learned to speak, Max Patrick Schlienger has been telling stories. Unfortunately, despite having been given ample opportunity and encouragement, he has yet to master the art of shutting the hell up. In an effort to avoid being completely shunned by his friends and family, Max finally took to writing his stories down. He intends to continue in the glamorous profession of making stuff up until such time as the position of Superman becomes available.

When he's not wasting time on the Internet or pretending to understand elements of theoretical physics, Max can often be found making short films, singing acappella music, and participating in ill-conceived culinary experimentation. He lives and works in the San Francisco Bay Area, where a video game company pays him to break things and then brag about it.

There is no currently-existing evidence to refute Max's claims of his own immortality, insofar as he is not yet dead.
Where to find Max Patrick Schlienger online
Books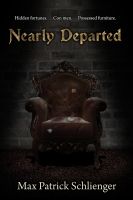 Nearly Departed
(4.86)
Con artists are a notoriously skeptical bunch, and Dennis Gufehautt is no exception. His scheme of masquerading as a paranormal investigator seems foolproof, until he encounters an actual ghost. Now, having unwittingly become a witness to a decades-old murder, Dennis finds himself stumbling headfirst into bizarre and often hilarious situations as he tries to solve a legitimate paranormal mystery.