Teresa Carlson
Biography
Raised on a healthy diet of Star Wars, The Neverending Story, The Goonies and a dash of Blade Runner, the fascination with other worlds, high adventure, magic and friendship was deeply ingrained from early on.

When reading and watching stories unfold just wasn't enough, she began to write...and never stopped.

In a town that is more lake than land, she settled down to raise her two amazing children alongside her wonderful and supportive husband. Although the ingredients have changed slightly, she still consumes a massive amount of science fiction, fantasy, and other nerd-based dishes on a regular basis.
Where to find Teresa Carlson online
Books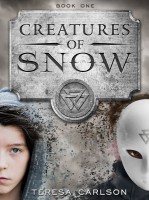 Creatures of Snow
(5.00)
At fifteen, Skyden Regan is a clever boy, but lives his life with his head down. He has never given a thought to anything beyond his own reality, and it isn't until a little nudge from an assassins made of shadow, ancient prophecies and finding out his estranged brother is part of a secret organization that wants him dead that he get's the wake up call he never knew he was waiting for.