Scott Goudsward
Biography
Scott T. Goudsward is the author of numerous short stories, screen plays and novels, and co-author of the non-fiction books, Shadows over New England, and Shadows over Florida. He has an avid interest in the horror genre since seeing the horror classic, Friday the 13th, when he was only 13. By total accident he hails for the same odd New England town—Haverhill, Massachusetts —that has produced the likes of Colonial axe murderess, Hannah Dustin, bellowed Abolitionist poet, John Greenleaf Whittier, TV Host, Tom Bergeron, and heavy metal rocker/movie director, Rob Zombie.
Where to find Scott Goudsward online
Books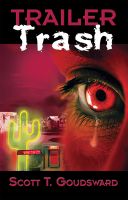 Trailer Trash
Until the night his parents are murdered, Elvis Taggard's world doesn't extend far beyond the Starry Night Trailer Park. He never suspects there's a secret society of bloodsuckers lurking in the shadows of the main streets and back roads of modern-day America. All that changes one fateful night after a sexy vampire satisfies her hunger by gorging on second helpings of the boy's momma and daddy.
Scott Goudsward's tag cloud