Sophia Deri-Bowen
Biography
Sophia Deri-Bowen is a proud native Philadelphian, who packed up her life and moved to Wales not too very long ago. She's still not quite sure how she managed it, but she now lives and studies in a beloved new country. Time not spent digging out from under a pile of research goes to following rugby union and baseball, knitting, and rambling as far and wide as possible. She is perhaps slightly too obsessed with old boats, the Welsh language, and finding a place that has a decent Belgian beer on tap.
Where to find Sophia Deri-Bowen online
Books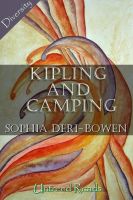 Kipling and Camping
A displaced American and his British boyfriend, on a hiking trip into the mountains, find that the explorations of both wilderness and relationships have much in common with the works of Kipling. A short story from our Diversity line.
Sophia Deri-Bowen's tag cloud