Sean and Connor Hayden
Biography
Sean Hayden is a published author with Echelon Press and joins his son to bring you the tales of Professor Pelusian Minus. They live in Florida with a duck, and a plethora of other pets. Sean works as a cable-communications engineer.

Connor Hayden is a 5th grade student at Renaissance Charter School. When he's not learning, Connor enjoys taking Tae Kwon Do and reading. When asked why he wanted to write a series of books, he said, "It runs in the family."
Books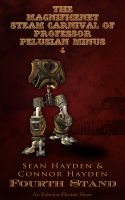 Fourth Stand
Ever been so close to having what you wanted, you could taste it? Imagine if that were your freedom. Getting Paige's explosive collar off didn't mean the twins were free. Even if they escaped, they had to make sure Professor Pelusian Minus wouldn't have a way of following them. First they needed a plan.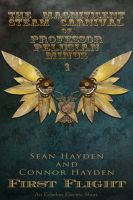 First Flight
(5.00 from 2 reviews)
When Professor Pelusian Minus' steamsmith dies, he needs another one quickly. He sends his giant henchman out to complete the task. The professor is not at all happy when Abraham Lincoln brings back two small twin babies. Soon though, he discovers they are just what he needs; he just has to wait for them to grow up.
Sean and Connor Hayden's tag cloud