Sequoia Elisabeth
Biography
Sequoia Elisabeth has 50 years of life experience with the last 22 devoted to self improvement, motivational, inspirational, and metaphysical studies. Her degrees include Certified Radiology Technologist with a specialty in Magnetic Resonance Imaging, Bachelor of Science in Business Administration, one year at College of Metaphysical Studies, Ordained Minister of Spiritual Peacemaking and a Masters in Adult Education and Training. She has 24 years experience working in all sorts of Health Care settings and four years as an Ordained Minister. Her experience in the Gay, Lesbian, Bisexual, Transgender, and Queer (GLBTQ) world is about 11 years old. She has been living her life as a transsexual woman 24/7 since 2008. She has facilitated meetings at the Gender Identity Center of Colorado volunteered there and works on their BOD as Secretary. She has also volunteered with PFLAG and will continue to be active in the Transgender community volunteering when she can with whatever group needs her help. She also continues to write books, administer her website and minister everywhere she goes. She intends to Assist, Educate, and Love as many people as she can on "her Journey of Love".
Where to find Sequoia Elisabeth online
Books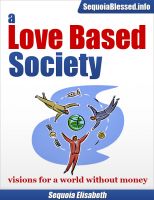 a Love Based Society: visions for a world without money
by

Sequoia Elisabeth
Describes the authors view of a world without money, a world based on Love. This is nothing new and has been talked about for centuries, however 2012 is the tipping point, the dawning of the Age of Aquarius. Another name for this society is a Resource Based economy.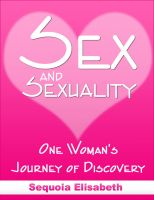 Sex and Sexuality, One Woman's Journey of Discovery
by

Sequoia Elisabeth
Learn about the transgender journey, get to know humanity better, be a better person, understand your body better, enjoy sex more, not just sex but the entire relationship, improve all your relationships. Jesus's teachings on Sex and Sexuality are shared. On this journey the significance of relationship is discovered as well as the meaning of sexuality. Please join me on this Journey of Discovery.
Sequoia Elisabeth's tag cloud