Sally Hawthorne
Biography
Sally Hawthorne is a writer with a background in religious philosophy, research and design. She was born in Texas and completed a master's degree at Columbia University. Since then she has lived in New York, Japan, northern New Mexico and India. She has been a librarian, a fashion-design student, a Tokyo housewife and a merchant mariner. Her literary mentor was the late priest-author, Malachi Martin. Hawthorne reads and travels extensively and now lives on the road in Asia.
Books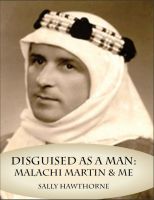 Disguised as a Man: Malachi Martin & Me
Father Malachi Martin, a Roman Catholic priest, scholar and exorcist, was a best-selling author and media celebrity in the mid-1970's. At the peak of his career, a fifty-seven year-old Martin began a disastrous Abelard-Heloise-style love affair with a troubled teenager who had seen him on TV. She now recounts the story of her decade-long romance with the controversial cult figure and pop-prophet.