Shad Callister
Biography
Shad Callister has always loved great stories and can't imagine anything funner than spinning a gripping new tale for hungry readers. His background designing futuristic defense systems for a leading military contractor has lent frightening realism to his debut novel, Machines of Eden, and pushed his imagination into the danger zone. He currently lives in Boise, Idaho, and he owns no pets or robots.
Where to find Shad Callister online
Books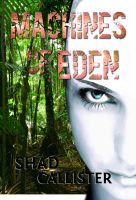 Machines of Eden
by

Shad Callister
(4.67)
Awakening on the beach of a tropical island, a combat hacker finds himself at the center of a plot to turn Earth into a new Eden where humanity has no place. Caught between an advanced A.I. and her sadistic physical counterpart, and with the clock ticking toward an apocalypse, only one thing is clear: they picked the wrong man to push around.
Shad Callister's tag cloud