Pruitt Farm Publishing
Publisher info
I love learning new things and helping as many people as I can have a better life. My dad always told me that you become what you think about so I try to never let any negative thoughts enter my mind and always see myself as being successful.
Books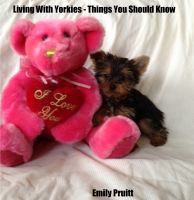 Living With Yorkies - Things You Should Know
This handy little book is produced by the daughter of a Yorkie breeder. It also comes with some of the cutest Yorkie pictures. One last detail about this Yorkshire terrier book is you can't beat the price.
Smashwords book reviews by Pruitt Farm Publishing