Lakshman Singh
Biography
Brigadier Lakshman Singh, VSM (Retd.) was commissioned as an officer of the Indian Army, post-Independence in June 1955 from the Indian Military Academy (IMA) in Dehra Dun, India. The young officers of that vintage were still trying to come to terms with the lifestyle of the bygone era, a legacy left by the British Army. A technical graduate competing with ex-cadets of the National Defence Academy and 'direct entry' compatriots, he managed to overcome numerous obstacles faced during training and later in the service. He has led a chequered career including a long tenure with the Defence Research & Development Organisation (DRDO) while in service and later with the Research and Analysis Wing, India's external intelligence agency (RAW) followed by a stint with the Electronics Corporation of India Limited (ECIL), a PSU as their Defence advisor. When not pursuing his writing and painting, he spends time enriching his other area of interest interacting with management and IT students on the topic of soft-skills. He is also the author of Letters from the Border and Other Less Told Stories. He lives in Greater NOIDA, near New Delhi, in the state of Uttar Pradesh. You may contact him via email at: Lakshman31@gmail.com
Where to find Lakshman Singh online
Where to buy in print
Books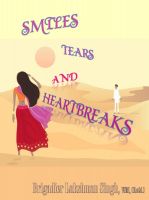 Smiles, Tears And Heartbreaks
(5.00)
After my wife passed away I began to write in earnest. This industrious activity though quite therapeutic in helping me cope with the loss of my wife left me with a stack of essays and shorts pertaining to random happenings in my life. The stories have been intentionally left unarranged, like the random events that generated them. The reader is at liberty to enjoy or to trash accordingly.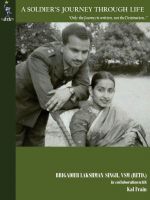 A Soldier's Journey Through Life
(4.75)
The Journey: A poignant picture of an innocent time. A narrative commencing in the 1930's detailing the trials and tribulations of a newly wedded young soldier of the Indian Army. "Only the Jouney is written...not the Destination."