Congregation of the Holy Spirit
Biography
The Congregation of the Holy Spirit is an International missionary society of religious, within the Catholic Church, which has as its mission the Evangelizing of the poorest of the poor. We have missions in over sixty country.
Books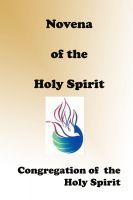 Novena to the Holy Spirit
The Novena to the Holy Spirit is a both a beautiful prayer to the Holy Spirit and a preparation to celebrate the Solemn Feast of Pentecost. This novena includes the prayers of the Consecration to the Holy Spirit and the Prayer for the Seven Gifts of the Holy Spirit as well as meditations and prayers to be recited for nine days between the Feast of the Ascension and Pentecost.
Congregation of the Holy Spirit's tag cloud