Steven Reigns
Biography
Steven Reigns is a Los Angeles-based poet and educator. After earning a degree in Creative Writing at the University of South Florida, he published his debut poetry collection, Your Dead Body Is My Welcome Mat, in 2001. Since then, Reigns has published four chapbooks: Ignited, Cartography, In the Room, and As if Memories Were Not Enough. A two-time recipient of the Los Angeles County's Department of Cultural Afairs' Artist in Residency Grant, Reigns organized and taught the frst-ever autobiographical poetry workshop for GLBT seniors and edited an anthology of their writings, My Life Is Poetry. He has taught writing workshop around the country to GLBT youth and people living with HIV and recently received his Masters in Clinical Psychology from Antioch University. Currently he is involved with S(t) even Years, a 7-year endurance performance under the mentorship of performance artist Linda Montano.
Where to find Steven Reigns online
Where to buy in print
Books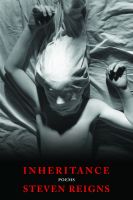 Inheritance
Poetry. LGBT Studies. The autobiographical poems of Steven Reigns's INHERITANCE introduce us to the gains and losses of a true American family and detail the bequests of the shadows that linger. Reigns glosses over nothing to reveal the secrets that turn suburbia into a coming-of-age battlefield.