Steven Ballard
Biography
I'm a twenty-something year-old college drop-out living in sin, though that's soon to be rectified. I was always a prolific reader of fiction growing up, tried my hat at being an English major for a while, and have written more material than I can possibly remember (or find) now; I've also started a mediocre career as an editor of fellow amateur authors, soon to be rolled out to Smashwords if everything goes well. Author bios are silly.
Books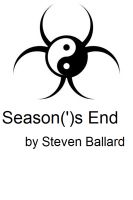 Season(')s End
By
Steven Ballard
Price:
$0.99 USD.
Words: 46,050. Language: English. Published: March 5, 2012. Category: Fiction
Angels and demons, from the heavens and earth, between this universe and the next, are so deeply entwined with those of us able to hear their voices. A cacophony too quiet to be heard aloud fills her soul with a screaming too loud to be told.
Steven Ballard's tag cloud