Stephen A. Benjamin
Biography
Dr. Stephen A. Benjamin was born and raised in New York City. He received his A.B. degree from Brandeis University, and his D.V.M. and Ph.D. degrees from Cornell University, and is a board-certified veterinary pathologist. He has been a university teacher, researcher, and administrator, and is currently Professor Emeritus at Colorado State University. His interests in human and animal health are reflected in most of his short stories and novels. He lives in Colorado with his wife, and enjoys traveling, especially visiting his family, fishing, golf, skiing, cooking, and writing fiction.
Where to find Stephen A. Benjamin online
Books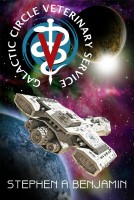 The Galactic Circle Veterinary Service
When Dr. Cy Berger sets off across the galaxy to practice his veterinary profession, he not only treats alien diseases but gets caught up in his autocratic government's plot to conquer and enslave the friends he makes along the way.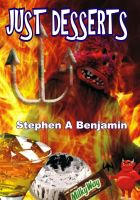 Just Desserts
In a small Colorado town, a teenager and his school friends investigate a series of bizarre deaths in which desserts and other sweets were used as murder weapons. The kids discover that there is a breach between the underworld and the mortal plane that has allowed a demon to cross over, a demon with a sweet tooth who must be stopped before he destroys the town.
Stephen A. Benjamin's tag cloud