Steve Finegan
Biography
In addition to being a YA author, Steve Finegan is a seeker of the extraordinary in the ordinary and an avid, eclectic, and voracious reader – with observations, which he occasionally shares on his blog Achieving Wow! Steve writes fantasy fiction in which unlikely young heroes battle isolation, rejection, and worse only to discover that what makes them so different from everyone else, and often miserable because of it, is an extraordinary gift or ability that they come to value and embrace.

Steve lives in Portland, Oregon with his wife, son, golden retrievers Gary and Cooper, one very old Yorkshire terrier named Corkie, and a horse named Jordan, who seems to think he's a dog.
Where to find Steve Finegan online
Books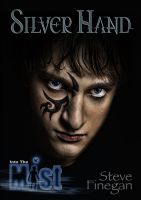 Into the Mist: Silver Hand
(4.50)
Gabe Wrenn has always taken refuge in his imagination. Refuge from his hovering mom and bullying brother. Refuge from the smirks and stares of his classmates. Refuge from his epilepsy. But now his imagination seems to be running wild. And he can't stop it. And the only person Gabe can confide in is a girl who thinks his "weird brain" is the key to unlocking the secret of the Brynmor Witch.