Steve Foulds
Biography
Steven Foulds owns and operates Critical Conditioning, and is an award winning personal trainer / strength coach operating from Melbourne, Australia. He holds cert III/IV and Master Trainer in Fitness and is currently studying a degree in Sports Science. Steve is also a former amateur boxer, purple belt in Brazilian Jiu Jitsu, has vast experience in nightclub security and other martial arts/combat sports. He has also worked with members of the Australian Army and Victoria Police, as well as professional elite athletes from the AFL and Super Rugby's Melbourne Rebels.
Where to find Steve Foulds online
Where to buy in print
Books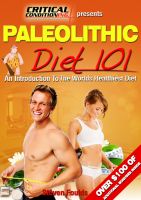 Paleolithic Diet 101
Get started on the worlds healthiest diet today!! The Paleolithic Diet 101 covers such topics as: What Is The Paleolithic Diet? What Are The Benefits of The Paleolithic Diet? What Are The Dos and Don'ts of The Paleolithic Diet? Foods to Avoid The Paleolithic Diet Shopping List The Paleolithic Diet Doesn't Have to Cost a Fortune and much more!