C. Stephen Weaver
Biography
C. Stephen Weaver, or known by many as the Music Row Lawyer, is no novice to the music and entertainment industry. His love affair with music began at the age of 9 when he picked up his first guitar, which later led to him being a member of several popular Memphis bands. In 1977 he graduated from the University of Memphis School of Law, and soon thereafter entered academia, as an Assistant Professor and Director of the Commercial Music/Recording Program at Georgia State University. Now based in Nashville, Tennessee, in the heart of the entertainment industry, he has run a successful private entertainment law practice for over 30 years, representing artists, songwriters, producers, publishers, record labels and others in the entertainment industry.
Where to find C. Stephen Weaver online
Where to buy in print
Books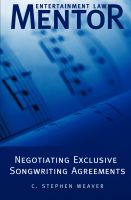 Entertainment Law Mentor: Negotiating Exclusive Songwriting Agreements
A detailed "how to" book about negotiating the large print, the fine print, and everything in between which is commonly found in exclusive songwriting agreements. Steve Weaver presents a template exclusive songwriting agreement and then explains what each paragraph of the agreement means (even translating it into plain English) and he then proceeds to list, analyze and discuss important points.