Kim Pearson
Biography
My name is Kim Pearson and I have been a ghostwriter for more than ten years. I make my living exclusively as a writer, which is not something every writer can say. My writing service, Primary Sources, helps others become authors of polished, professional, and compelling books, articles, and blogs. I have ghostwritten more than thirty non-fiction books and memoirs, telling the stories of a wide variety of people and covering a broad range of topics, from saxophones to finance, city histories to hypnotherapy, psychic horses to constipation, and many points in between. I also offer developmental editing services and teach workshops and teleclasses on writing and history. My own works include: Making History: how to remember, record, interpret and share the events of your life; You Can Be an Author, Even If You're Not a Writer; Dog Park Diary: the social round of Goody Beagle; Eating Mythos Soup; and numerous articles and e-books. More about me, along with samples of my work and links to some of my clients, can be found on my website, www.primary-sources.com.
Where to find Kim Pearson online
Where to buy in print
Books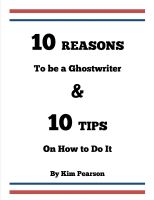 Ten Reasons to Be a Ghostwriter and Ten Tips on How to Do It
Do you dream of making your living as a writer, but are afraid it's an unrealistic dream? Maybe you should think about becoming a ghostwriter. This short book by a professional ghostwriter gives you ten tips on how to start and live a ghostwriting career, and ten often surprising reasons why it's great to be one.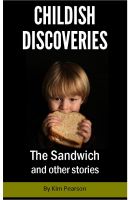 Childish Discoveries: The Sandwich and Other Stories
Look through innocent childish eyes in these 7 short stories, and discover that those eyes may not be so innocent after all. A sandwich turns deadly, a trampoline becomes an avenger, and the hallway coat closet harbors a secret occupant. These stories and others may make you remember your own childish discoveries in the mysterious grown-up world.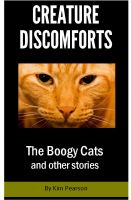 Creature Discomforts: The Boogy Cats and Other Stories
Enter the strange cracked world of these enchanting short stories; a world where it is common to find a platoon of cats executing an elaborate revenge, baby alligators returning from the dead, and other discomforting glimpses into the lives of so-called ordinary creatures. These stories might stay with you a long time, like a persistent dream – or a recurring nightmare.