Susanne Dillingham
Biography
Susanne Dillingham is the oldest of the twins who live in clevland ohio. Her sister is Jennie Dillingham, she tailors clothes part time while being a caregiver at home.Susanne is a waitress at a local resaurant and tinkers with pcs as a hobby. Susanne was looking for e-books on linocuts and couldn't find any, so she made one herself, with the hopes that it will inspire the artist in someone.
Where to find Susanne Dillingham online
Books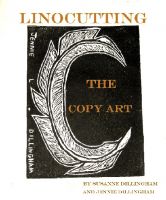 Linocutting The Copy Art
A simple guide to creating a linocut relief print. This book also contains full color photographs. You can now view 50% of this book!
Smashwords book reviews by Susanne Dillingham
Wild Wines on Dec. 30, 2011

I like the simpleness of this book. It is great for beginners.