Sydney Haler
Biography
Sydney Haler lives in Modesto, California where she is a Public Health Nurse at an OB/GYN clinic.
Books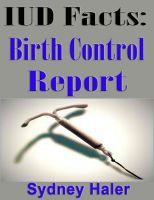 IUD Facts: Birth Control Report
The author shares fact-based information on the safety and effectiveness of IUDs in preventing pregnancy. She dispels common misconceptions about IUDS. Well worth reading if you are considering forms of birth control.
Sydney Haler's tag cloud