Sylissa Franklin
Biography
I write mystery with adventure...and a little romance. I love to travel, and each of my trips add new ideas for my writing. As a story teller I am always looking for adventurous ideas to share. My writing style has been influenced by my reading of Mary Stewart, Ellery Queen and watching lots of Alfred Hitchcock presents.

A Mermaid's Tears is my first epub novel inspired from diving trips that we have taken in the Florida Keys and Bermuda. Sailing in these waters and seeing the relics of shipwrecks and hearing the mysterious legends from the locals helped inspire the characters and events in this book.

Besides novels, I am published in both short stories and poems. As a child I would write short plays and my siblings and I would present them to our parents. Exploring new ideas with every play I learned how to create exciting tales through the use of words. It has been a lifelong lesson for me that we can scare ourselves silly with our own imaginations.

I have four more novels which I will be offering as epub books over the next several months. Each one offers more of my adventures and bring new characters each with unique adventures. And of course, like all authors, I have a couple of new works in progress that I am excited about.

I hope you enjoy my stories. I love sharing adventure and tall tales, all mixed with my true life experiences.
Books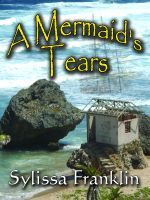 A Mermaid's Tears
by

Sylissa Franklin
Price:
$2.99 USD.
Words: 88,350. Language: English. Published: September 3, 2011. Categories:
Fiction
»
Romance
»
Suspense
(4.00)
House sitting in Key Largo,Isa meets Bryce Williams, quickly developing a love hate relationship. Inheriting late grandpa Harry's financial troubles he's searching for a shipwreck. Isa enters an underwater photo in a local contest unaware it holds clues to the treasure. Someone else is aware of the photo's value too. Now it's a race against a raging hurricane to see who finds it first.
Sylissa Franklin's tag cloud