Sylvia Haute
Biography
Sylvia Haute is the author of several novels and short stories under various pen names. Goldport Press hopes to publish her full range of work as soon as possible. She lives in Colorado with her husband, Glenn Haute, and several cats.
Books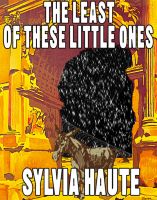 The Least Of These Little Ones
By
Sylvia Haute
Price:
$2.99 USD.
Words: 3,410. Language: English. Published: December 17, 2011 by
GoldportPress
. Category: Fiction
After the end of the world all that remains are predators and prey. A lone traveler and his donkey have to be very careful, as well as lucky, not to become one or the other.
Sylvia Haute's tag cloud