Greg Fletcher
Biography
I am a husband, father, friend, tai chi instructor, healer, musician, martial artist, taoist, photographer, video editor, sonic engineer and meditator.
Where to find Greg Fletcher online
Books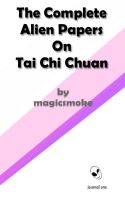 The Complete Alien Papers On Tai Chi Chuan
Was Tai Chi Chuan and the philosophy of Taoism brought to Earth by a 7ft blonde haired levitating alien? and was she then left behind by her own kind to complete the task? Set over thousands of years, this is a very strange yet highly entertaining possible account on the origins of the classic Chinese art of self-defence and healing.
Greg Fletcher's tag cloud