Talon Windwalker
Biography
Talon S. Windwalker is a very eclectic individual. He essentially survived his abusive childhood by escaping through the reading of fantasy books. Later, as an adult, when he began working with the dying and their loved ones, the fantasy genre helped him escape "real world drama."

Talon has written in various genres and is passionate about writing, something he is earnestly trying to pass onto his son; however, he is not currently enjoying great success in that particular endeavor.

In addition to his work in health care as a nurse and chaplain, he also is a Zen monk, photographer, travel writer, certified endurance running coach, avid snowshoer, former ultramarathoner and endurance cyclist, as well as a scuba diving instructor.

He and his young son are currently traveling the world slowly as full-time nomads. They began their crazy adventure in May 2010. They blog and share photos of their adventures at http://1dad1kid.com.
Where to find Talon Windwalker online
Books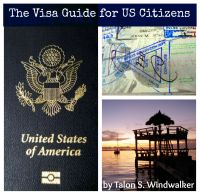 The Visa Guide for US Citizens
(5.00)
It can take hours to weeks to research all the necessary information to discover the requirements various countries have for issuing visas. This can be compounded by lack of information or conflicting information across resources. I have done the exhaustive research for you and have created a travel resource that will make your planning much simpler.