Tessa Apa
Biography
Tessa writes and lives in Auckland, New Zealand surrounded by family and friends. The power of words to change lives, moods and the path we tread continues to provide inspiration every single day.
Where to find Tessa Apa online
Books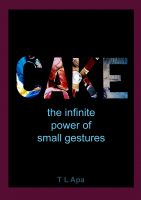 Cake
(4.90)
A short story about the power small gestures have over tragedy and despair. Heartbreak and the hope that can follow, shattered dreams and the possibility of giving birth to new ones, all accompanied by the perfect piece of Cake.
Smashwords book reviews by Tessa Apa
Saving Rachel on May 12, 2011

a really great holiday read. My teenage daughter read it in 3 hours and loved it too.

Not What She Seems on May 26, 2011

I enjoyed reading this book, it kept me intrigued all the way -

Shared on July 23, 2011

What happens when something impossible is proven true? What happens to people when the truth is simply too hard to accept? Shared arrives at the impossible truth slowly. It draws the reader in because we need answers to the questions laid before us. Rachel is just a child, a very special child suffering from an affliction that has no name. Set in 1800, a time where both medicine, religion and culture all had the potential to polarise belief and understanding. As we learn more about Rachel the shocking truth is hinted at and eventually proven. It is revealed so well that it does not feel that impossible after all. The title of the book is our first clue. What is it that is shared'? It is life? Is it reality? Or maybe their very soul? The story continues as Rachel's own God fearing mother struggles to understand - and begins to suspect her child is the result of evil. Everyone who knows and loves Rachel has their own struggle of belief. Her doctor, her priest and her father. Some are able to accept her and some are not. When the story moves to the opposite side of the world, New Zealand - we see a completely different way of living and of viewing the sick little girl. The native Maori people are not bound by religion or oppressed by society. They do not see Rachel as sick at all. They see her as she truly is and accept her because even though they have never met her, they have known her all her life. Shared is a story of opposites. Opposites sides of the earth and cultures. Religion versus atheism. Science versus creation. We are torn between taking sides, but left feeling comfortable choosing elements from both. With so much division there is only one person who shares everything, yet takes no sides. Rachel - a child with a special gift. I don't want to give too much away. But what I will tell you is that Shared will linger with you long after you turn the last page. The questions its raises, the solutions it offers, the beauty is portrays, will be pondered for a long time.