T.D. Ingram
Biography
T. D. Ingram is a retired advertising writer-producer-director who has been writing haiku, senryu, haibun and tanka since 2002. Born and raised in Southern Illinois, he now resides in Texas. His poems have appeared in Ambrosia, Atlas Poetica, Handful of Stones, Notes From the Gean, River of Stones, Seven by Twenty, Sketchbook, South by Southeast and Tinywords.
Where to find T.D. Ingram online
Where to buy in print
Books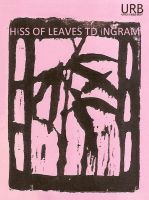 Hiss of Leaves
Explore the subtle beauty of beetles, trash in the wind, cigar boxes, snail trails, bottle caps, sheets snapping on the line, and more. This contemplative haiku chapbook by T. D. Ingram will help you cultivate a greater awareness of the magnificent in the everyday, and open your heart to the beauty inherent in everything.