Sela Gu
Biography
Teaching Panda is a leading designer, developer and marketer of Chinese-English bilingual educational products and related proprietary content. All products feature full illustration, side-by-side bilingual translation with Pinyin, and detailed vocabulary pages. It is the perfect course companion to learn sentence structure, build vocabulary, and practice pronunciation for English-speaking children learning Mandarin. Both parent and children will be captivated by the beautiful pictures and can read along either in English, Mandarin or Pinyin pronunciation.
Where to find Sela Gu online
Where to buy in print
Books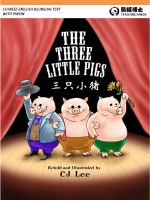 The Three Little Pigs - English-Chinese Version with Pinyin
This is the classic children story retold by CJ Lee that demonstrates how camaraderie defeats evil. Rediscover how the three little pigs helped each other to beat the big bad wolf. This is the perfect bedtime story to share with your kids either in English, Chinese or Pinyin. This a 33-page bilingual book with beautiful illustrations.