Teddy G. J. Vail
Biography
58 year old male. Engaged @ 14 Married 38 years. Writing for 35 years. I came out of a strong racist background and now have founded "The Tri-Pact Covenant" This is a national effort to promote racial healing in our world. I have traveled around the country speaking on the subject. I am a poet recording artist. I have 3 Cds produced as well as my memoir "From My Nigger to My Brother...One Mans' Journey Out Of Racism"
Where to find Teddy G. J. Vail online
Videos
Tri-Pact Covenant
Ted Vail speaking @ "The Call" in Montgomery Alabama
Books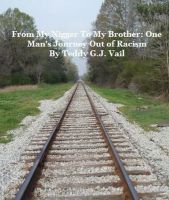 From My Nigger to My Brother: One Man's Journey Out of Racism
This book is an autobiography that takes you on a journey from a racists mindset through his spiritual awakening to his redemption. It includes "The Tri-Pact Covenant", which is being used nation wide to bring healing to racial wounds in individuals and communities. It has a spiritual Christian message without being religious. The book and "The Tri-Pact Covenant" are tools to use in this struggle.
Teddy G. J. Vail's tag cloud