Terri Crews
Biography
The Joy of the Lord is Terri Crews' strength. Terri Crews resides in the small town of Hilliard FL, where she's lived most of her life. She has been married to her high school sweetheart, Wayne, for twenty-three years and is a proud mama of two children, Elizabeth, twenty-two and Jonathan, seventeen. Recently, her family welcomed a son-in-law Scott to the family. She is the property manager for Franklin Properties.

Terri Crews had the desire to write since she was a child. Despite circumstances in which she was reared, she's managed to press on with hope of one day becoming an author. As an author, her greatest joy is to share a story. Reading is one of her fondest ways to let go of reality and relish in imagination for a while.

Terri Crews has one published work--From Letters to Grace. Terri is thankful to God every day for family and friends, who are just as much family as her blood relatives. Their encouragement has been a blessing and at times very much needed. Her loved ones are the true treasures in her life.

Just a simple small town girl with a story to share! Find Terri's romance novels at www.inspiredromancenovels.com.
Books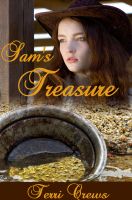 Sam's Treasure
by

Terri Crews
When Sheriff Trace Wallace overhears outlaws planning to kidnap and enslave an older boy, he soon discovers the unruly young man is, in fact, a beautiful but tough woman who not only helps him bring in the bad guys, but also ensnares his heart. For love is the greatest treasure of all...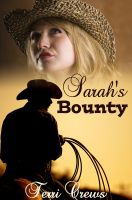 Sarah's Bounty
by

Terri Crews
(5.00)
After a lifetime of dealing with outlaws of the worst kind, surely Blake can escort one woman across the country without giving into temptation. He has five thousand reasons to ensure it will be an easy task. But Blake doesn't bank on the value of his heart being worth far more than Sarah's Bounty...
Terri Crews' tag cloud