Joseph Dobronski SR.
Biography
J.F. "JOE" DOBRONSKI graduated from high school in western Pennsylvania and entered the NavyV-5 Program in 1945. He attended Worchester Polytechnic Institute and Cornell Univ. prior to preflight. He was designated a Naval Aviator 1947. Joe flew in VA-1L and VX-3 prior to discharge in 1949 and then the Naval Reserve until 1954. After graduation from Northrop Aeronautical Institute in 1951, he worked as a Flight Test Engineer at McDonnell Aircraft in St Louis; became a production test pilot in 1953 flying the F2H Banshee, and was promoted to experimental pilot after graduation from the USAF Test Pilot's School in 1954. As an experimental test pilot, and later Chief Test Pilot in 1966, he helped develop the Demon, Voodoo, Phantom II, Eagle, Harrier, Hornet and other experimental aircraft and a three jet helicopter. Joe became Director of Test Operations in 1972 and Director of Flight Test and Operations in 1976. Following retirement in 1984, he became Chief Pilot for Wings of Hope, a humanitarian organization where he worked for fifteen years. He flew medical missions in Central America, and also delivered aircraft for missions in Belize, Botswana South Africas, and the Galapagos Islands. With over 1700 hours instructing, he was awarded the FAA Central Region Flight Instructor of the Year 2000 Award. He is a Fellow in the Society of Experimental Test Pilots and was granted an Honorary Doctorate Engineering from Worcester Polytechnic Institute. He is actively instructing aerobatics and sailplanes in which he holds the Diamond C award. In 1998, he self-published the book titled "A Sky Full of Challenges" (web page www.omnishops.com/TestPilot). Joe married Virginia Hausmann in 1957 and lives at 1008 Cla-Ter-Ri Drive; Ballwin, MO 63011. Joe and Ginny have four children, nine grand-children and five great grand-children.
Books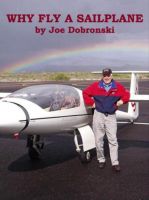 Why Fly A Sailplane
Extraordinary 11,000 hour aviator, Joe Dobronski colorfully tells his experiences flying gliders in a way that is engaging for everyone and captivating for all pilots. He tells how he became involved in this fasinating sport as relaxation while working as a jet fighter test pilot for McDonnell Aircraft. He holds two State Records and the Diamond C Award. All proceeds go to the Catholic Missions.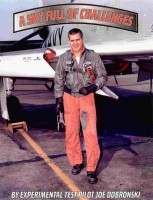 A Sky Full of Challenges
Extraordinary test pilot, Joe Dobronski colorfully tells his experiences flying early to recent jet aircraft in a way that is engaging for everyone and captivating for pilots. You will learn about many unique challenges encountered in the successes and tragedies of fighter development during the "Golden Age of Aviation." All proceeds are sent to Catholic Missions.
Joseph Dobronski SR.'s tag cloud