Ace Card
Biography
Born with an extremely wild imagination I started writing children's books. But I was not only born with a wild imagination... I was also born with a very dirty mind! After publishing three comical kid's books I turned to my deepest passion and started writing and publishing a sex blog named The Good Sexlife. I found it exhilarating to liberate all those dirty thoughts and share them with others. Discovering that I had a talent for erotic writing and I never suffered the dreaded writer's bloc known as the blank page that I had experienced while writing in other categories, I decided to write erotic books.
Where to find Ace Card online
Books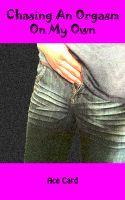 Chasing An Orgasm On My Own
When I am away from home I love to sexually tease myself just to see how horny I can get. I get myself hard then deny myself the orgasm that I so crave for weeks on end. Sometimes it results in the most mind blowing orgasms ever!
Ace Card's tag cloud