Tracey Croisier
Biography
Tracey began her Bikram practice in the spring of 2004 after relocating from the east coast. She was almost instantly in the thrall of the yoga and graduated from Bikram's teacher training in Los Angeles in 2005. In 2007, she published the only Bikram-authorized memoir of her yoga experience, The Mighty Cobra & The Pink Rabbit. Prior to teaching yoga, Tracey worked on Wall Street. After years on a trading desk, she picked up a syndicated show with NBC Radio. In 2000, she was recruited by Upside Magazine to host a sassy little radio show, The Dawn Patrol. In addition to teaching, Tracey is the manager of Bikram Yoga Bellevue. And when she's not at the studio, she's having buckets of fun with her twin girls, who just turned four.
Where to find Tracey Croisier online
Where to buy in print
Books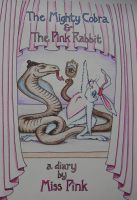 The Mighty Cobra & The Pink Rabbit
Get the inside scoop on what it really takes to survive Bikram's Hot Yoga teacher training. The author, a former trading desk worker, roars loudly in her entertaining illustrated memoir of a pear-shaped type-A gal struggling to reclaim her self image in the hottest place on earth: yoga teacher boot camp.