Rose Brown
Biography
Over the years raising a large family, 4 boys and 1 girl I realized I had to take drastic measures to make sure they remained healthy. So I decided that healthy meals were basically the way to go. I started spending a lot of time in the kitchen creating interesting and healthy meals. I then noticed that not only did my family start complimenting me but my grocery bill started going down. Then I started to learn how to spend less time in the kitchen still creating the same meals with natural ingredient, having more time for myself and loving it.

I wanted to share some of my secrets with you and hope that you will enjoy my delicious recipes and have as much joy as I have had over the years watching my family and friends dig in.
Books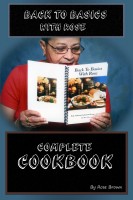 Back to Basics with Rose Complete Cookbook
Eating natural home cooked meals is adding less of any type of fat along with your natural spices help to keep your weight in check without having to go to the trouble of regimented costly diet programs. Educators are recognizing the importance of Back to Basics with our children today, so why not start with what we feed them. – Eat desserts without the guilt – GUARANTEED!
Rose Brown's tag cloud