VERBAL ARTISAN
Biography
The Verbal Artisan is an extremely talented artist. She comes with the passion and aggression rarely seen or displayed by females and her unrelenting approach to issues faced by many individuals whether man, woman or child causes people to reflect internally to issues surrounding them. Her fearless approach to topics and dominating stage presence captivates audiences of all ages. She paints vivid images through words causing onlookers to feel the pain, joy, trauma or anger of each piece.
Where to find VERBAL ARTISAN online
Books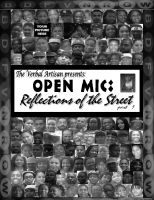 OPEN MIC: Reflections of the Street part 1
OPEN MIC Reflection of the Streets is a poetry book which explores various issues and topics. It is a reflection of how some behave or think which may not be beneficial. This book is its title intending to provoke reflection, encouragement, inspiration or anger.