Morgan Dreiss
Biography
A 20 year old genderless being of amorphous light, Morgan Dreiss studies Creative Writing for Entertainment at Full Sail University and spends much of their free time cheating at simulation games. Raised in the tender bosom of fandom, they have a 12-year career as a fanfiction writer and enjoy it when pretty people kiss.
Where to find Morgan Dreiss online
Books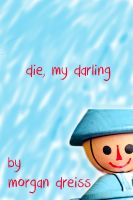 Die, My Darling
After the war, an arms company capitalizes on the public's love of ventriloquist acts and hatred of ventriloquists by making robotic dummies. But when the crude Dowdies are replaced by the modern Darlings, tragedy strikes! Just because something is ugly doesn't mean it has no feelings.
Smashwords book reviews by Morgan Dreiss
Campfire Stories on July 29, 2013
(no rating)
Always good to find a glaring typo within the first six lines of dull, clerical dialogue. Not even worth the time and effort it would take to download. Not recommended.