Ran Sterling
Biography
Since the early eighties, I had been an in house ghost writer for a large publishing company. Since I have been on my own I have written books on Numerology and a Diet and Nutrition book. My new work is the three part story of Ricco Tristano; which I had purchased the story rights from its original author, Ricco Tristano just before he vanished. What interested me was the life Ricco had lived. Such an entangled life that for him to publish his own story would have been life threatening. I truly believe his story needs to be told, and one that the reader, I am sure will agree with.
Ran Sterling
Books
Dieting Made Simple
Dieting Made Simple is a weight loss Cookbook filled with recipes to loose those unwanted pounds without starving yourself. The recipes throughout the Cookbook have been proven to work for over a hundred years when one sticks with them while on the weight loss program.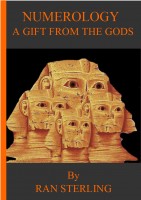 Numerology; a Gift from the Gods
Numerology; a gift from the Gods origin of knowledge comes from the tabloids known as, 'Blue Print of Man' found during ancient Sumerian Agrological diggings of the BC city of Sumer in Southern Mesopotamia.
Ran Sterling's tag cloud