Tanya Schatzman
Biography
I'm from Cleveland, Ohio. I moved to Nashville, TN and I don't play the acoustic guitar. Jesus and I are mad cool. I spend my days working on how not to work for the rest of my life.
Where to find Tanya Schatzman online
Videos
This Is My Book!
Visit my site! I know you can read.
Books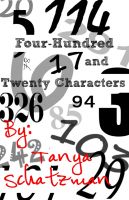 Four-Hundred and Twenty Characters
(4.43 from 7 reviews)
These are humorous pieces of my life in the length of a Facebook status. All true. All foolish. All Status-ready. Each of these short snippets are of something I experienced, thought or witnessed. Have at it.
Tanya Schatzman's tag cloud