Simon Dillon
Biography
Simon Dillon was born the year Steven Spielberg made moviegoers everywhere terrified of sharks, namely 1975. He lived the first twenty or so years of his life in Oxford, and was pleased to have spent so much time in the place where some of his favourite writers wrote their greatest works (including JRR Tolkien, CS Lewis and Phillip Pullman). Things went gradually downhill from there as he attended University in Southampton and afterwards managed to muddle his way into television where he has worked ever since. Simon Dillon likes to think he can write a diverting story, and as a result has penned a few novels. He might be sadly deluded, but that's for agents and publishers to decide. He currently lives in Plymouth in the UK, and is married with two children. He is looking forward to brainwashing them with the same books that he loved growing up.
Where to find Simon Dillon online
Books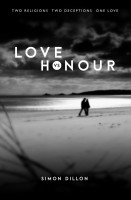 Love vs Honour
by

Simon Dillon
When Johnny meets and falls in love with Sabina, their bond proves stronger than a teenage holiday fling. Fearing the disapproval of their strict Christian and Islamic families, they undertake an elaborate deception to continue seeing one another. Johnny pretends to convert to Islam whilst Sabina pretends to covert to Christianity. But how long can this deception last before it unravels?
Simon Dillon's tag cloud