Val Whitter
Biography
I live on the wonderful Isle of Grain in Kent, England, with the coastal park a few hundred yards away where ships labour along the Thames and the Medway.
Despite careers in teaching and social work and achieving my Masters, my joy is the creative arts, making films and writing.
I am a private person and few people know much about me;I have worked on a kibbutz, led a strike, filmed up Kilimanjaro, helped to run a reggae studio - I'll save the rest for later.
My soul mate is a broadcast music composer so we have the luxury of working together - when we are not gazing out to sea.
Although I direct business videos I love writing and short stories. As well as video scripts I am working on a young adult novel at present. I think Smashwords is great, don't you?
Where to find Val Whitter online
Books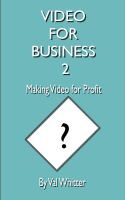 Video for Business 2 Making Video for Profit
Making video for profit is a revealing guide for business owners who wish to make their own videos for marketing.Learn the insider secrets of film that can boost your business in this easy to read jargon-free guide.
Video for Business 1 How to Commission a Video
A short practical guide from a corporate video director to help those in business who need to use a video firm but don't know where to start.