Venise Webb
Biography
Venise Webb grew up in Chicago, Illinois, where she first discovered her passion for books. She wrote her first story in the third grade about the misadventures of a young girl in an inner city school. That passion grew into an obsession for books of all genres and sizes. She now lives in Birmingham, Alabama with her three sons and a big colorful, southern family. When she is not reading, she is making up sto-ries of her own.

Venise Webb also writes adult romance under the pen name, Tara Ann Bradley.
Where to find Venise Webb online
Books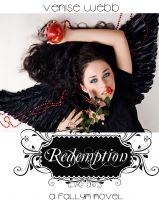 Redemption
Redemption is Venise Webb's debut novel for the new Fallyn series. An epic battle is brewing between Heaven, Hell and Earth. Right there in the middle of it all is Fallyn and Shayne. Is their soul connection the key to protecting the world or the weapon to destroy it?