Vic Kirby
Biography
Vic Kirby was born and educated in England. He moved to Canada in 1985. Vic's primary career is as a management consultant, renowned for his creative ability to help organizations and businesses envisage how they should evolve to thrive when confronted with tectonic shifts in the environment in which they operate (e.g. the advent of deregulation). He was an instigator and collaborating author in a seminal book on extracting value from Information Technology investments – "The Information Paradox – Realizing the Business Benefits of Information Technology" , John Thorp and Fujitsu Consulting's Centre for Strategic Leadership, ISBN-13: 978-0070926981.

In 1997, Vic established a second home in Mexico. Vic now splits most of his year between Comox on Vancouver Island in British Columbia, and Todos Santos in Baja California Sur, Mexico. In addition to writing (and even attempting acting!), Vic has a passion for photography, and is a founding member of "Artists of Todos Santos" (ARTS), an informal group dedicated to developing and supporting a strong visual arts community in Todos Santos.

Vic's recent portfolio of Photography can be seen at www.vickirby.zenfolio.com. The ARTS website, maintained by Vic, is at www.artistsoftodossantos.com.
Where to find Vic Kirby online
Books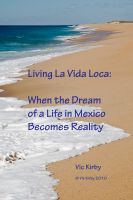 Living La Vida Loca: When the Dream of a Life in Mexico Becomes Reality
This book is for anyone who has ever thought, even fleetingly, of making a life as a "snowbird", or even as a full-time resident, in the warm climes of Mexico. Just what is it like to make that dramatic step? What is the reality of the dream? What should I know before I take steps to make it real, or decide it's just not for me?