Victoria Nicks
Biography
Victoria's Master of Science in Information Technology augments 20 years of work in the IT field. She has extensive hands-on experience with technical support, training, installation, and a variety of other tech-related activities, and currently provides technical writing, SEO and SEM consultation, Google News Accreditation assistance, Wordpress assistance, and a variety of other services to private clients worldwide, as well as running several websites, including the multi-author website Decoded Science.
Where to find Victoria Nicks online
Books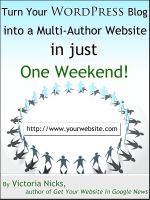 Turn Your WordPress Blog into a Multi-Author Website in Just One Weekend!
(5.00)
Have you ever considered converting your WordPress blog into a multi-author website? It's not as hard as you think. In fact, with this guide, you'll be done in just one weekend! (Or much less, if you are comfortable with the WordPress interface.) This edition includes a simple checklist and easy-to-follow walkthroughs for all plugins. You'll be managing multiple writers in no time flat!
Victoria Nicks's tag cloud