Jassin J Hakim
Biography
Jassin J Hakim was born in Detroit MI, 1978. After graduating from high school he joined the United States Army Military Police Corp where he obtained the rank of sergeant (E-5) and was part of several "classified" missions fighting the war on terrorism. Jassin also served 5 years as a Detroit police officer where he was assigned to the 5th precinct. He is currently a police officer for a suburban department in the Detroit metro area where he is assigned to the SRT (Special Response Team).
Where to find Jassin J Hakim online
Where to buy in print
Books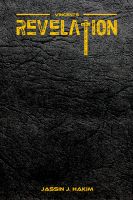 Vincent's Revelation
(5.00)
Vincent Cain is a 34-year old Detroit police officer in the year 2022. Vincent is not your normal police officer. He struggles to deal with a secret that he has hidden from everyone around him since he was a young child. Vincent is frequently visited by who he believes are angles. Vincent becomes annoyed with these frequent visits because of the confusing messages he receives.