Vinil Ramdev
Biography
Vinil Ramdev was born in Bangalore, India. He attended college at Florida Atlantic University in Boca Raton, Florida in the United States of America where he graduated with a Bachelors degree in Marketing in 2004. Since then, Vinil has been involved in starting and growing several businesses predominantly in retail and ecommerce. He is presently involved in helping businesses and individuals grow their business by focusing on marketing, branding, and building systems that generate sales.
Where to find Vinil Ramdev online
Books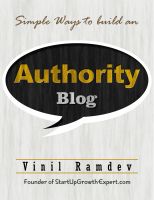 Simple Ways To Build An Authority Blog
Building a blog that positions you as an authority in your niche is one of the best ways to build your credibility. This book is a list of some of the simplest ways to build an authority blog. It is short, concise, and easily consumable. The methods outlined in the book are simple enough for anyone to implement.
Vinil Ramdev's tag cloud